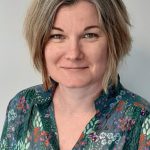 Prof. Celine Rebours
Celine is an experimental marine biologist, specialized in Phycology. Since 2016, she began to work specifically on cultivation and product development for Ulva titled "TRANSALGAE: innovative solutions for the production of micro-and macroalgae biomass from waste streams at industrial scale". She was the National Coordinator of INTERREG Botnia Atlantica (http://www.botnia-atlantica.eu/about-the-projects/project-database/transalgae ). This project won the Arctic Award 2017 in category 2, "Sustainable use of resources" (http://www.interregnord.com/fi/arctic-award-2017/ ). During the first year of this project, she developed the cultivation methods that was used further by her colleagues to upscale biomass production.
At Møreforsking, she worked as a senior researcher leading and/or participating in several international, national and regional research projects (e.g. CRA-Belmont MULTI-FRAME submariners, RCN-294946 SBP-N, RCN-285154 ISBIT2.0, Tarelaks). She has since developed and received funding for 3 different research concerning Ulva: RCN-304252 GREENS, RCN-312947 SEAGREEN and RCN-319577-SAFERIMTA.
celine.rebours@moreforsking.no