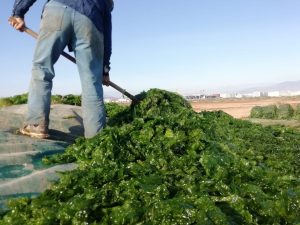 The past decade has witnessed a growing interest in the use of marine coastal waters to produce alternative sustainable food and other valuable products. The COST Action "SeaWheat" group consists of experts and specialists from 28 countries, who pursue together the modernization and upgrading of the traditional aquatic diet from our coastal seas. The Action develops the relevant scientific and commercial interests in Europe, Asia, the Americas and beyond.
Species of Ulva have been extensively analyzed for their value as food, feed, food ingredients (e.g., protein, carbohydrates, pigments, and antioxidants), chemical constituents and medicinal properties. In mariculture, Ulva can be cultured in both land- and sea-based facilities. An Ulva sp. farm can produce several folds higher yield per hectare than land plants (25-40 tonnes dry weight per hectare per year, compared to 2.1, 4.1 and 5.1 tonnes for soybean, wheat, and maize, respectively). In addition, Ulva is known as an excellent ecological biofilter and a provider of ecosystem services, reducing the environmental footprint and enhancing the sustainability of the growing industry of land- and sea-based fish farming, and preventing eutrophication in coastal waters SeaWheat COST Action combines interdisciplinary approaches to the sustainable use of marine resources, encompassing all facets of Ulva biology, ecology, aquaculture, engineering, economics and social sciences. This Action will lead to the development of advanced scientific collaborations, create business and job opportunities in maritime and coastal economies, and significantly impact societal welfare.             
This COST Action fulfils the current 'Societal Challenges Priorities' of the European Horizon 2020 strategy for food security. Furthermore, its implementation will contribute to the UN Sustainable Development Goals 14 (UNSDG) for the conservation and sustainable exploitation of natural resources.